Most of you are aware that when the Tokyo Marui Desert warrior came out there were virtually no holsters that fit the gun well.
I, however, was lucky enough to know some of the most well known knife makers and leathermen in the world(Mickey Yurco, Gary Sass, Mike Sastre etc etc...) who showed me how
to work a thermo plastic called kydex. I was first introduced to the concept in the early nineties. Not being a knife maker myself, I only used it for small projects for
my self.
ANYONE CAN DO THIS!!!
After refining my skills a bit recently, I thought I would show you how to quickly throw together a Kydex rig that is right out of a Magpul Dynamics video for just about any
gun you want.
There are also some good videos on youtube.com about how to make a Kydex rig as well.
Here is the test pony, a TM Desert Warrior...
First I prepped the DW with foil to avoid messing up the finish and melting the gun during the process.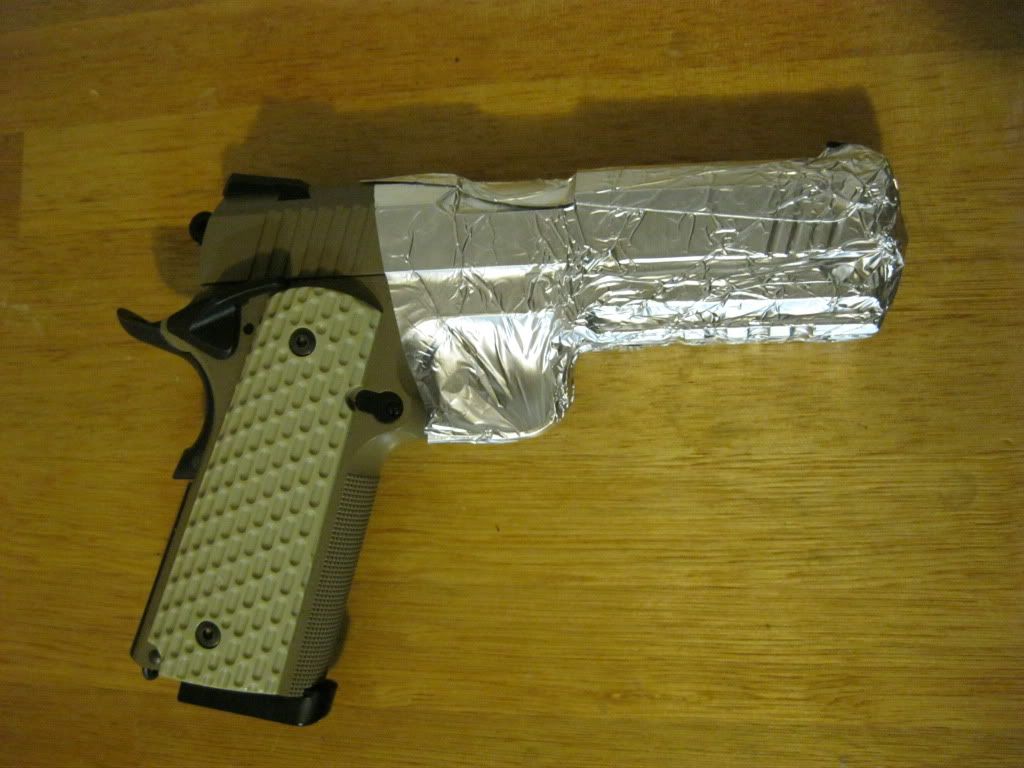 Then I laid the gun on a Black Kydex sheet of plastic with enough material to allow me to fold over the gun.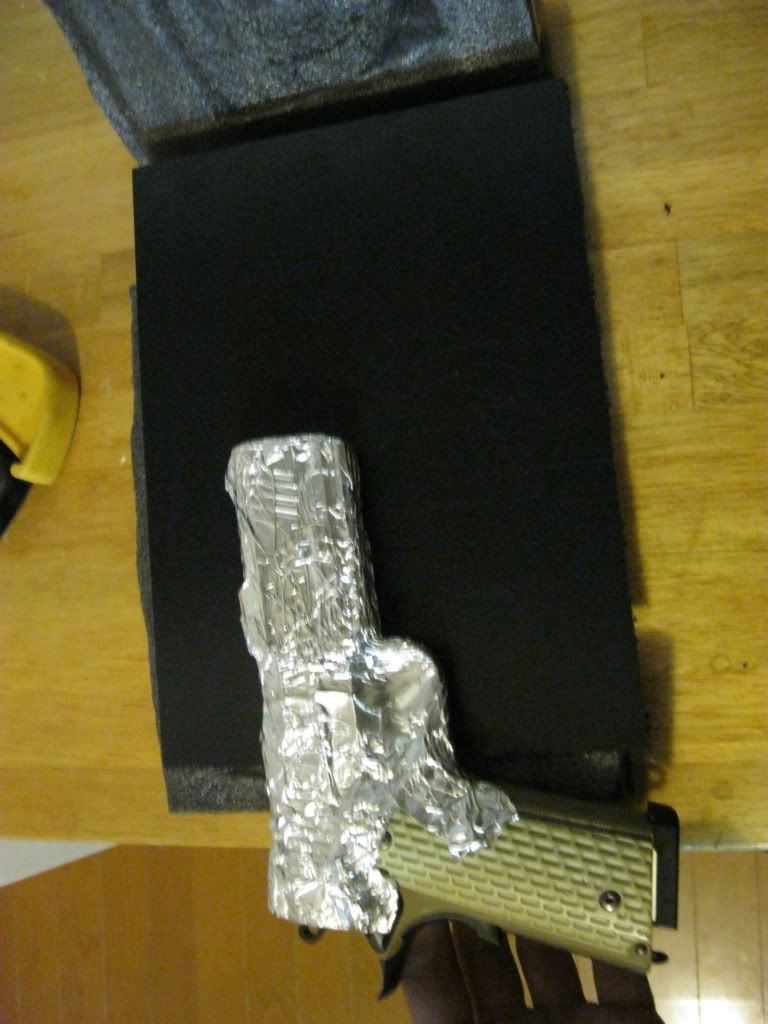 I prepared a Kydex Press with 2 wooden boards, some shipping foam that resists heat(
http://www.knifekits.com
has the right stuff you need) and 100mph tape(duct tape)
I heated the pre cut Kydex sheet in a toaster oven for a 2-3 minutes until it was floppy enough to fold over. Do not over heat the Kydex! Do not under heat the kydex! Do not
use this toaster oven for cooking!
After it reached the right temp I removed theKydex and wrapped up the gun like so. I used wax paper to help protect my foam and the kydex finish. Take a second and line teh
holster up on teh kydex press and then quickly close it and clamp it down. Gloves save you from being burned when handling hot Kydex.
After I close the press, I use a quick clamp to cinch it down initially...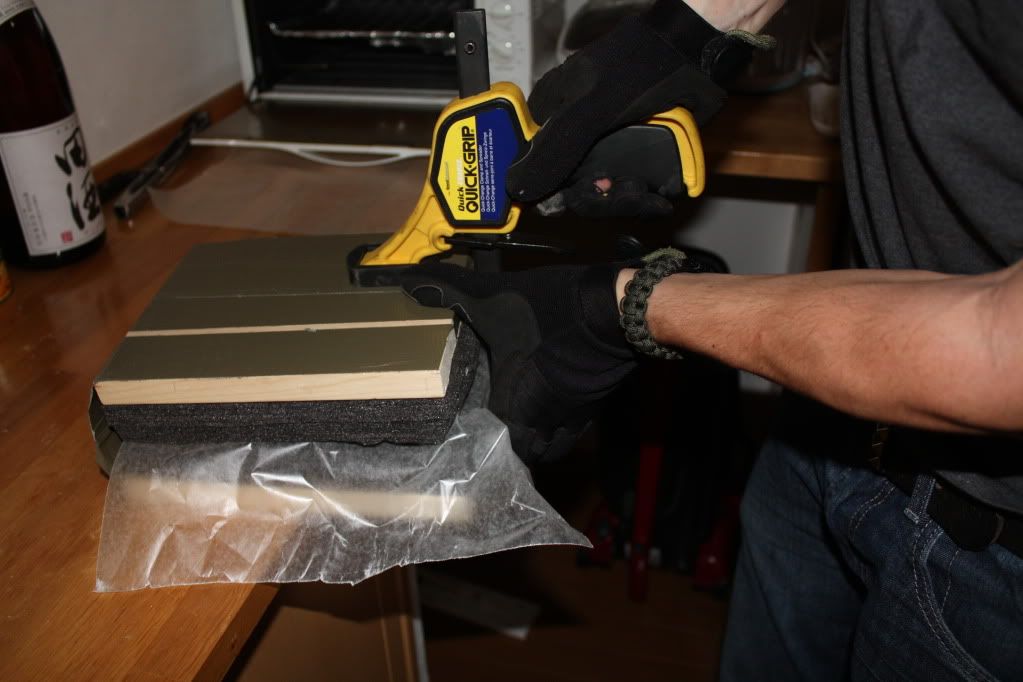 Then I throw it in a vice for 15-20 minutes...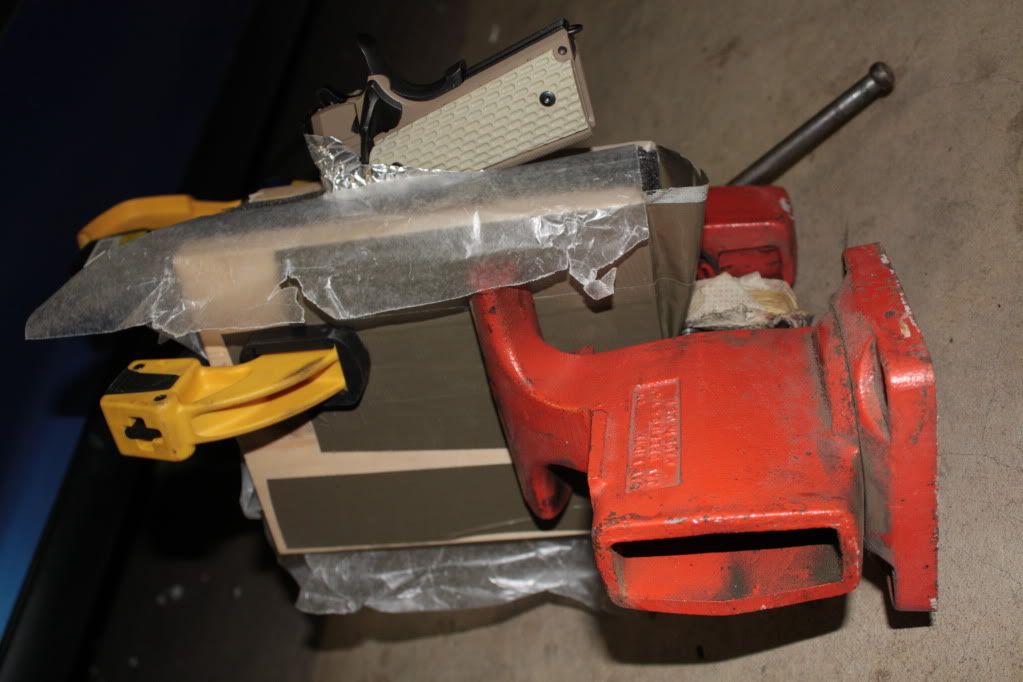 After it cools I removed it from the press to find this...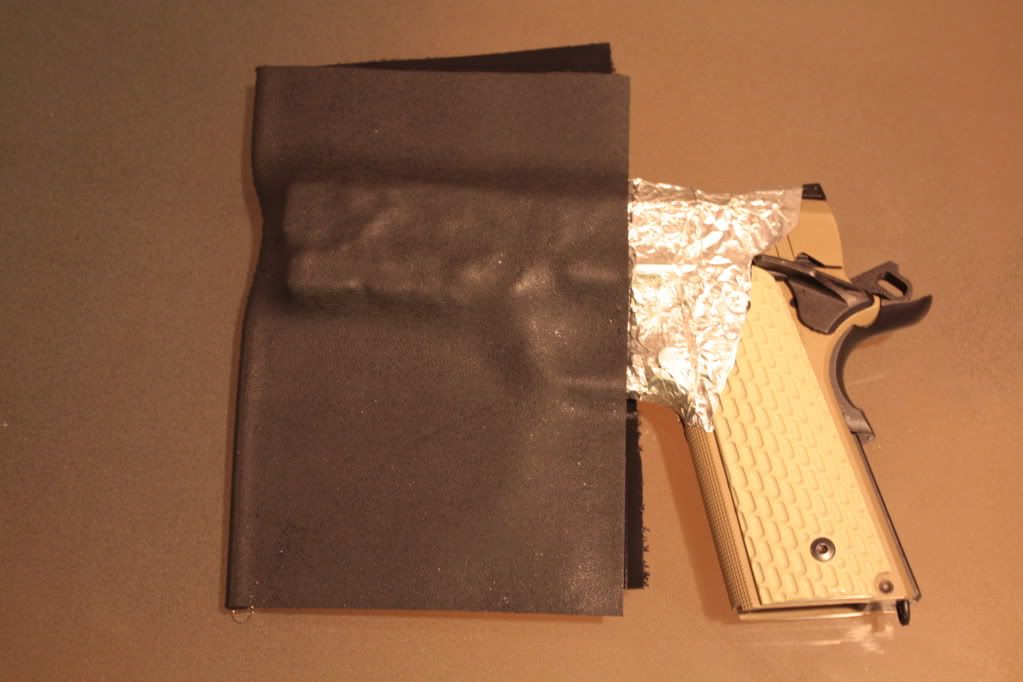 Normally at this point I would dip the whole thing in cool water to cool the project. Since this is a GBB gun I removed it from the kydex and ran some cool water over it.
If you saw the picture above you notice the fold did not square up right and stayed that way. I use a band saw to remove the over lapped parts and square it up again...
---
Here is a wooden jig I cut out to make the belt loops with...
Using a heat gun and a wooden jig, I made the belt loops. Heat the kydex at the folds then hold the jig in place for a minute or two until it holds shape on it's own then dip
in water...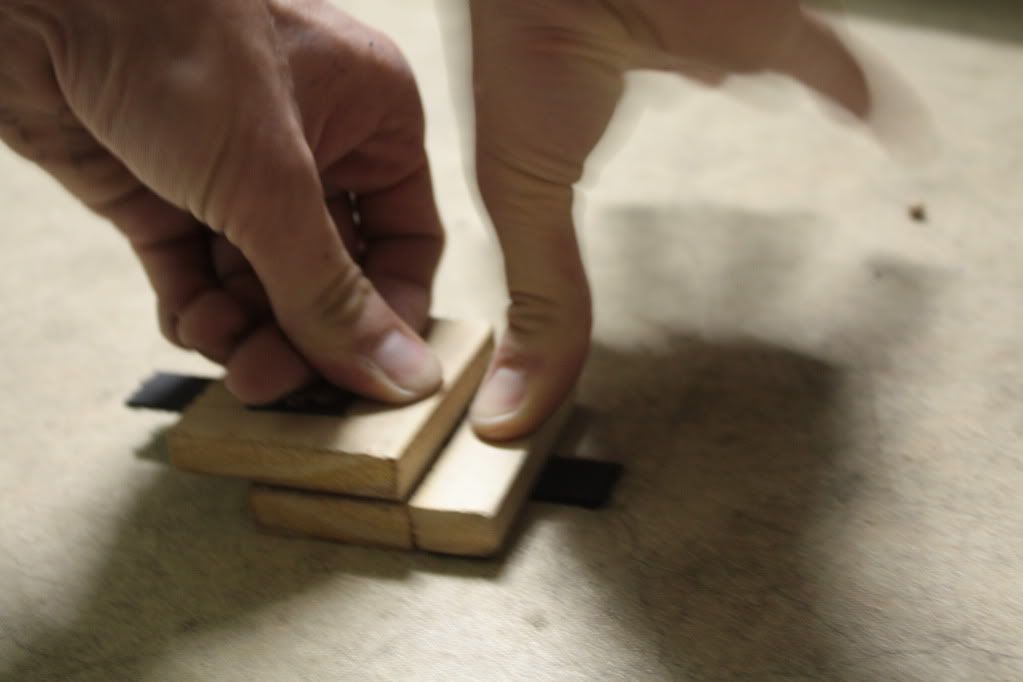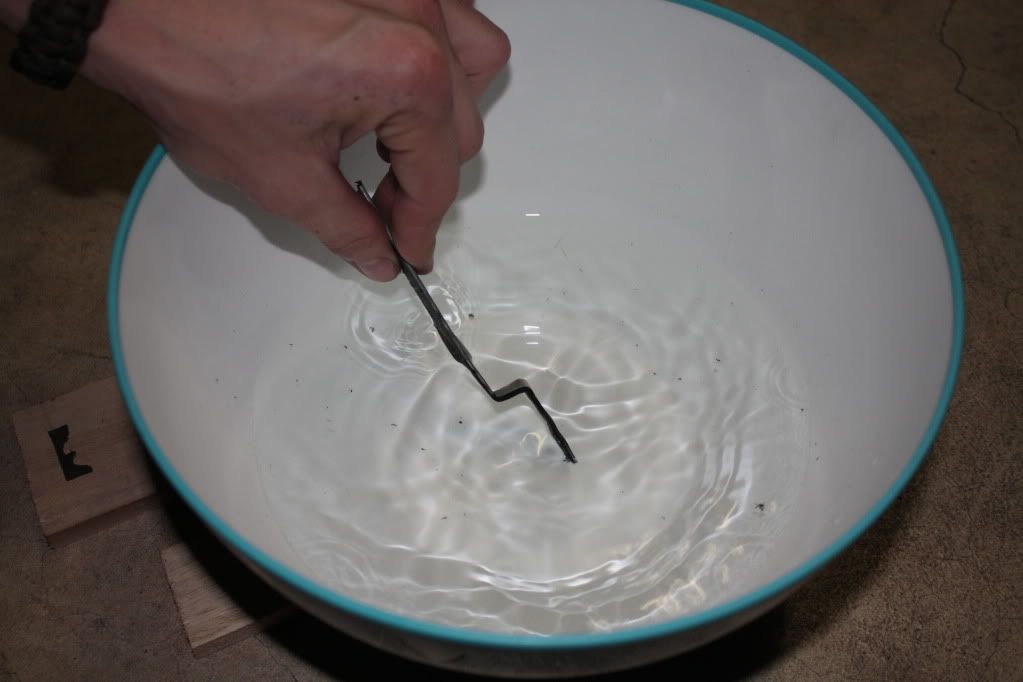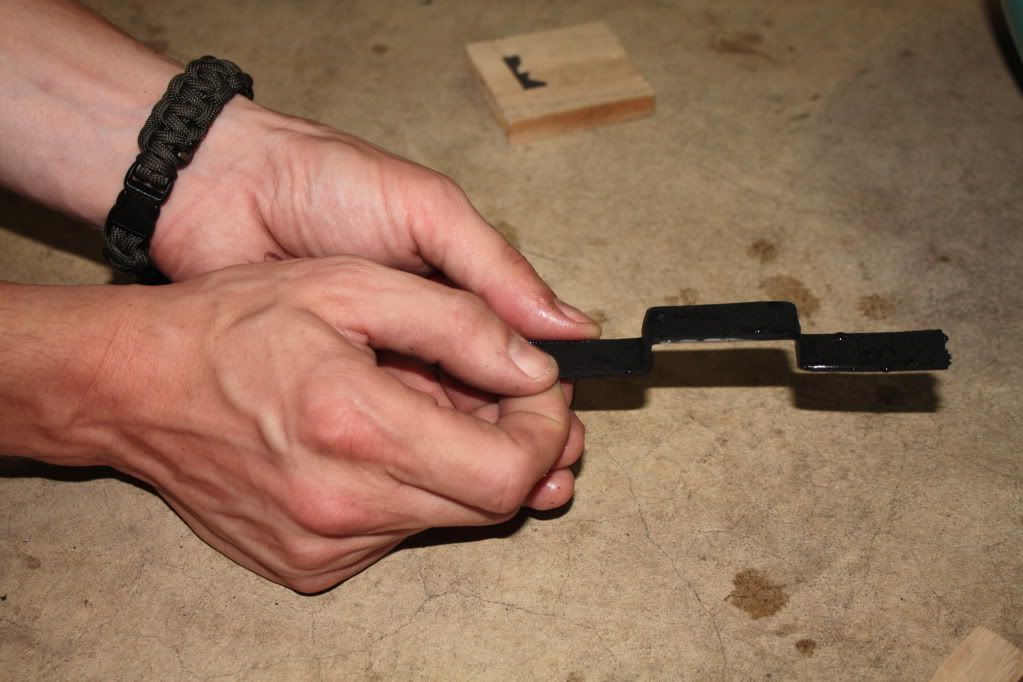 Now that both loops are made I trimmed the excess material as shown....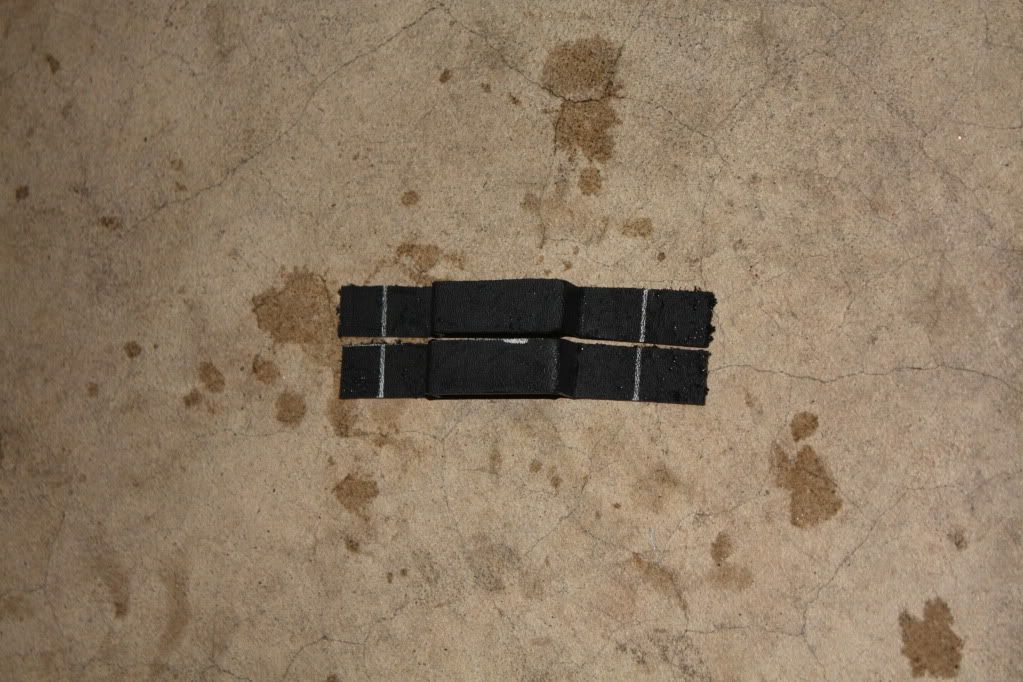 Then drill holes for the belt loops....
Then using some cheap ass eyelets and a setter I got from the 100Yen store I finished up the holes. For my BS airsoft rig this will work but My customers guns or real steel
rigs I would reccomend some quality eyelets from Tandy leather or something...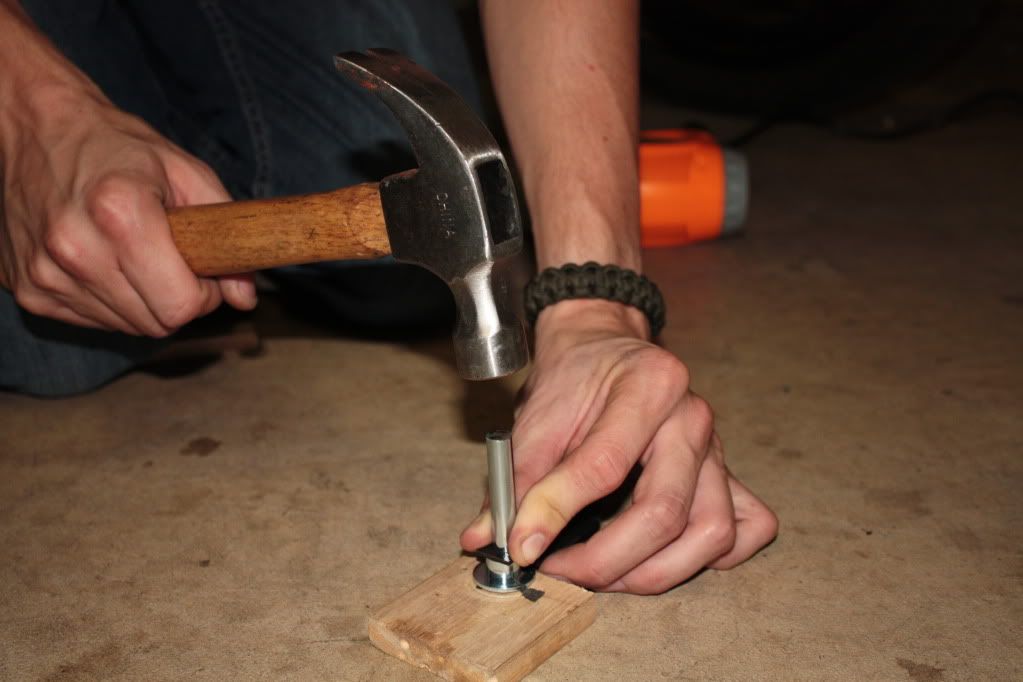 ---
Using the belt loops as a guide I marked where I will make holes on the Holster...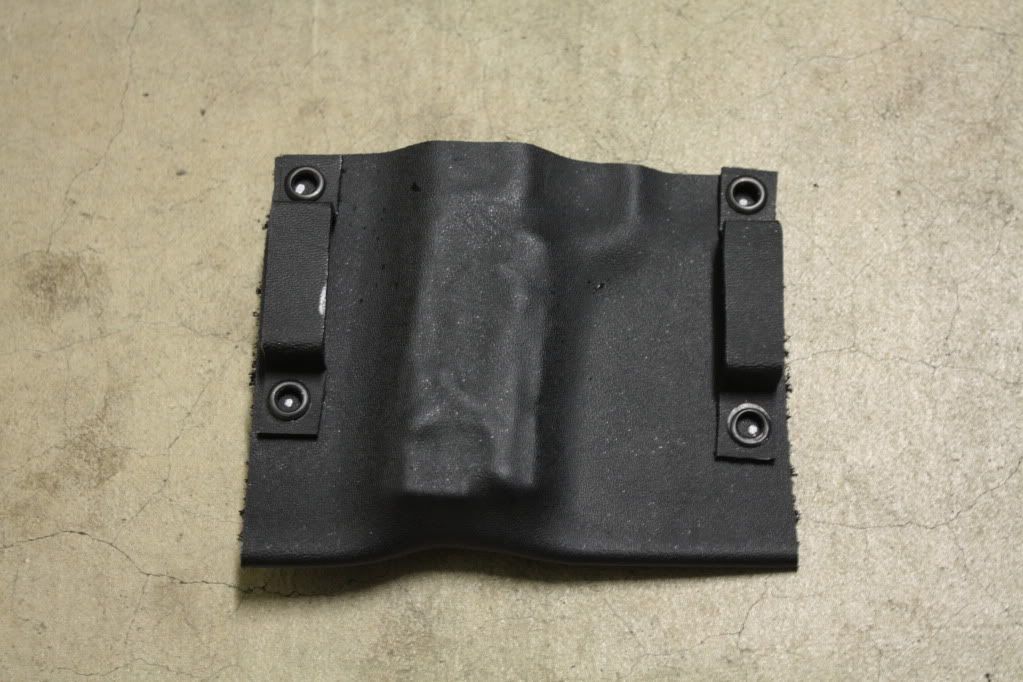 I took this opportunity to sand off any flash from teh edges and add eyelets to the holster belt loop holes.
Once again, since this is a simple BS airsoft rig, I will use some machine screws to mount the belt loops. Again, for a serious real steel rig, you may want to use some
proper bushings.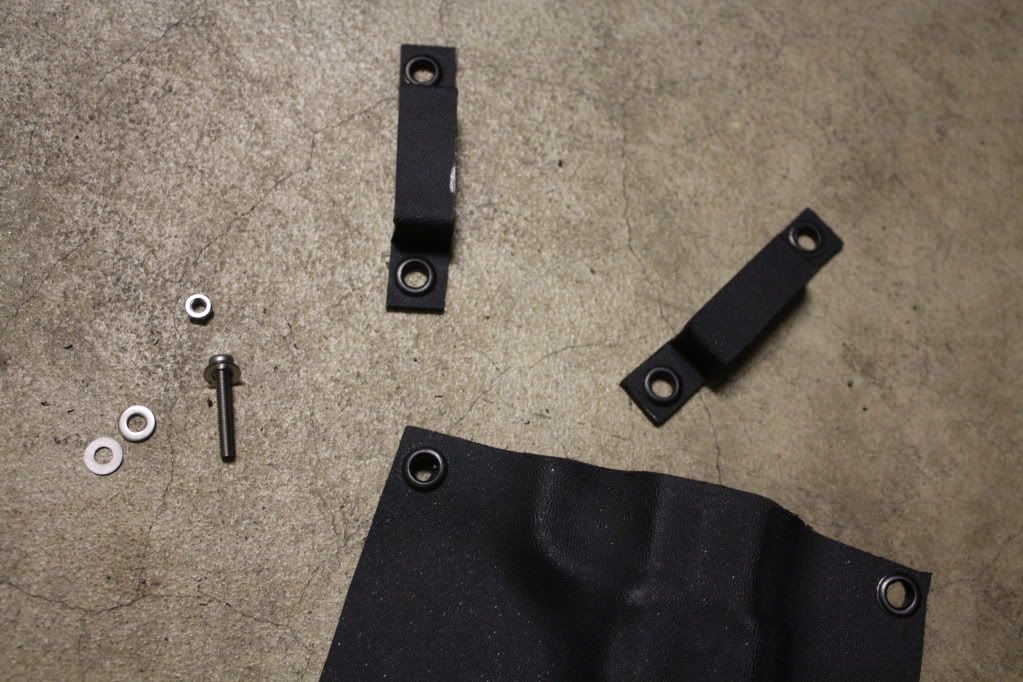 Bolted on the belt loops and BAM! Travis Haley eat your heart out! lol The good news is you can switch the belt loops to the other side for a left handed rig. You can also
use a jig and a heat gun to contour the holster as well...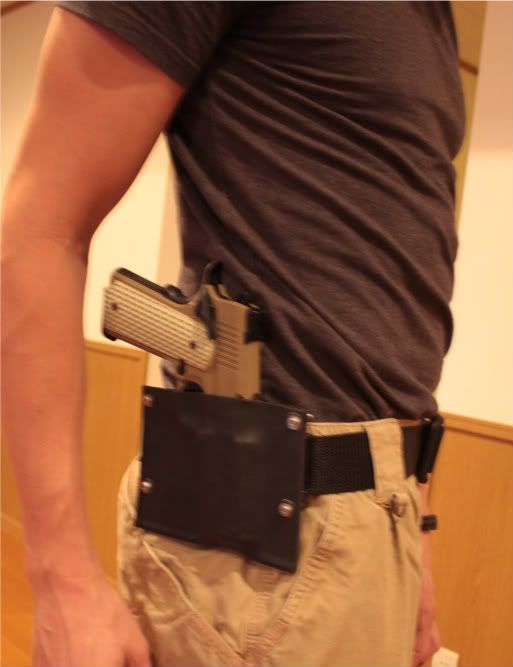 Now use your new skills to make other BAMFtastic stuff like this!!
Cheers!