Got one the other day. I only have a TM SIG552 that doesn't already have a MOSFET so I figured it was a good candidate for this. (on a side note, I got the SIG for 5000yen)
Shipping and correspondance with Kong was excellent. Shipping was less than a week and I live in JAPAN! Got mine here...
[url="http://www.aegwizard.com/"]http://www.aegwizard.com/[/url]
The unit appealed to me mainly because of it's simplicity and the fact that you can buy 1 unit and use it with all of your guns.
The unit comes with decent instructions and is fairly simple to use. I wish the SIG had more battery access/space which would make the use of this unit easier. Perhaps and ak would be good since you could pop the top cover off and take care of buisinesss.
The unit comes with Tamiya plugs. In the future it would be a good move for Kong to offer the unit with deans as well. For me it is not a huge issue, but if the name of the game is simplicity and ease of use, then some users would be turned off at the prospect of changing out battery plugs.
Couple of minutes later...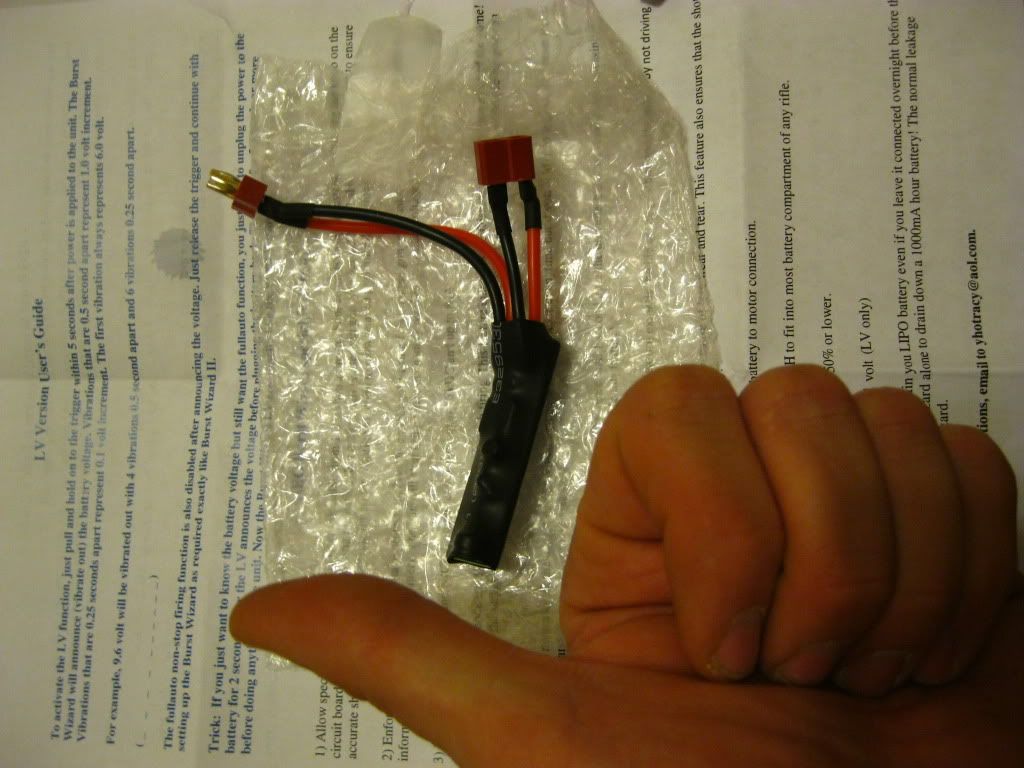 Ready to go.
The Unit is easy to set up. This is the LV model so it has auto voltage cut off for lipo users.
When you plug it in you just pull the trigger and hold within 5 seconds of plugging it in. The motor vibrates to announce the voltage. This disables the full auto function in burst mode but it can be reset by unplugging for 2 seconds after the voltage announcement and then reattach and don't do anything else for 5 seconds. Took me a minute to get it right but I eventually did.
The burst function reminds me of the TM SIG 551 burst chip. You turn a tiny potentiometer to set your burst count(see video)
I haven't tried the sniper 1 second delay mode yet.
One major complaint that I have is that the semi auto gets jacked up when you use it. It skips a shot if you attempt to pull the trigger rapidly. I thought it was in sniper delay mode, but it wasn't, that is just how it is.
Here is a quick video of the unit in action.
[url="http://s7.photobucket.com/albums/y284/meancivicsi/?action=view&current=MVI_0676.mp4"]
[/url]
All in all it is a good option for those on a budget or those who want simplicity or quick and dirty burst function.
Semi auto users beware , you may be annoyed by the semi auto delay caused by this unit.